Here are another half-dozen reviews of books read this spring and summer, not necessarily in the order in which I read them. I hope that you'll enjoy my thoughts on these intriguing books which vary from "cozy" mysteries to children's literature to, of course, Austen variations. Enjoy!
Mum's the Word
by
Kate Collins
My rating:
3 of 5 stars
A cute "cozy" mystery about Abby Knight who had studied to be a lawyer before quitting to start her own flower shop. Then a mysterious death occurs nearby, and she must stick her nose in and find out what happens. It doesn't hurt that the new owner of the bar just down the street is a handsome ex-cop who helps her with her sleuthing. A fun series--extremely light (a little too light for me), but fun to read in the spa at night.
Slay It with Flowers
by
Kate Collins
My rating:
0 of 5 stars
The second in the Flower Shop series, Abby is asked by her air-headed cousin to do the flowers for her wedding. But one of the groomsmen is killed...apparently by someone in the wedding party. Abby again has the help of the handsome bar owner/ex-cop down the street to help her to suss out the killer...before the killer gets to Abby first!
A cute series, but a bit too light. I won't be continuing to read it....
Rainbow Valley
by
L.M. Montgomery
My rating:
4 of 5 stars
Although I have read this series many times, I never tire of Lucy Maud Montgomery's lush and memorable prose and her scintillating characters who burst off the page and into our hearts.
Rainbow Valley
is not among my top "faves" of this series, but it's still a beloved book in an even more beloved series that I missed during my childhood read-a-thons and discovered in my mid-twenties.
A definite "keeper" and an integral part of this incredibly-written series that should be a part of every childhood.
Rilla of Ingleside
by
L.M. Montgomery
My rating:
5 of 5 stars
Perhaps my favorite book in the Anne of Green Gables series, it is from
Rilla of Ingleside
that I have gleaned the clearest understanding of the Great War, World War I.
This beloved book illustrates the power of love, family, sacrifice, sorrow, duty, and even a splash or two of romance through the eyes of a rather vain and self-absorbed girl of fifteen who grows up on the home front of Prince Edward Island, Canada, during the years of the First World War.
Beautifully and poignantly written, I consider this book the best of the entire Anne of Green Gables series despite its rarity of humor. This book is just...
more
in every way: deeper, more beautiful, darker yet lighter, patriotic, yearning for right to prevail.
It's difficult to put into words the sheer power of Montgomery's writing in this book. The battles far away in France are seen through newspaper articles and news spread via word of mouth a full century ago. The poignancy of a girlhood in wartime with her brothers, childhood friends, and even the young man she loves, on the front is beyond my powers of description. It's a beautiful and horrible book at the same time, yet beauty prevails despite heart-rending loss.
If you have not read the entire Anne of Green Gables series, I beg you to do so. And as of 2009, a ninth book has joined the series, a book which I am reading now and is well-worth the wait.
Mistaking Her Character: A Pride and Prejudice Variation
by
Maria Grace
My rating:
5 of 5 stars
I first read this book on FanFiction.net, and the author later sent me the published version of her series "The Queen of Rosings Park" of which
Mistaking Her Character
is the first.
I have read hundreds--and I'm serious, probably upwards of 400--variations of Austen's novels, and this particular variation of
Pride and Prejudice
is easily in my Top Five favorites.
In this variation, Mr. Bennet is "Dr. Bennet," employed as physician to Anne DeBourgh at Rosings Park. Jane and Elizabeth are daughters of his first marriage; Mary, Kitty, and Lydia are from his second marriage to the Mrs. Bennet we know and...well, are amused by. But this Mrs. Bennet has a bit more of a mean streak, especially toward Elizabeth who assists her father in his treatment of the very ill Miss DeBourgh.
Elizabeth did herself no favors when she turned down Mr. Collins' proposal, thus ensuring Charlotte's position as Mrs. Collins. And Mr. Collins kindly recommended his cousin, Dr. Bennet, when Lady Catherine desired to have a full-time physician live in one of the cottages at Rosings Park and kindly allowed his family to reside there as well.
I'll leave the background there to avoid any spoilers, but this variation appealed to me very much with Elizabeth's dedication to her father, who does not treat her well, her glib manner of turning aside Lady Catherine's frequent lectures with her quick tongue, and her and Darcy's immediate attraction. I'm currently proofreading the third book in this series, and they are all wonderful!!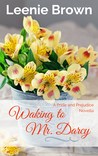 Waking to Mr. Darcy: A Pride and Prejudice Novella
by
Leenie Brown
My rating:
4 of 5 stars
A novella,
Waking to Mr. Darcy
brings us an injured Elizabeth Bennet who was out walking in a storm and, in her confused state, she happens upon the small hunting cabin on the Netherfield estate where Mr. Bingley and Mr. Darcy are escaping from the Bingley sisters and preparing to go out hunting. Given Elizabeth's injuries, Mr. Darcy elects to care for her, thus compromising her as he must remove her sodden clothing and treat her rather serious injuries. Their regard for each other grows during the night he tends her, thus preparing the way for a happy future.
A sweet novella, this quick read is a lovely way to spend a rainy afternoon!
Rainy Days - An Alternative Journey from Pride and Prejudice to Passion and Love
by
Lory Lilian
My rating:
4 of 5 stars
Another lovely Austen variation by Lory Lilian--I have thoroughly enjoyed all of her "alternative journeys" through the events of
Pride and Prejudice
.
A few days before the Netherfield Ball, Elizabeth, hoping to escape the unwanted attentions of Mr. Collins, takes a long walk. An unexpected rainstorm causes her to seek shelter in a modest fishing cabin built and used by Mr. Bennet and Mr. Gardiner. On her way there, a galloping horse and its rider are heading directly for a dangerous stream, and Elizabeth yells to stop him. The horse unseats its rider and runs off, leaving an angry Mr. Darcy behind. They seek the cabin together, and during this time, Mr. Darcy reveals his admiration for Miss Elizabeth while she learns far more about Mr. Darcy--the man behind the hauteur.
After the rain stops, they are able to return to Longbourn with an excuse of finding each other on the trail on the way home, with only Mr. Bennet (to whom Mr. Darcy confesses) knowing the truth of their unchaperoned hours in the cabin. Mr. Bennet is satisfied with Darcy's promise to marry Elizabeth should the story get out. And from thence goes our story of Elizabeth and Darcy's romance....
A wonderful and memorable variation of Austen's
Pride and Prejudice, Rainy Days
is the third
Pride and Prejudice
variation by Lory Lilian that I've read this month (March 2017). I don't think that I can pick a favorite, but all three are excellent, and I heartily recommend all three.
*****
I hope that you have enjoyed my thoughts on these very different books! I'll be posting more reviews next weekend as well.
Reading with you,